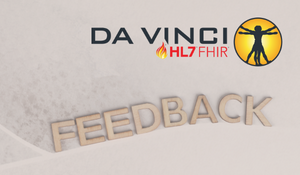 Last December, the Centers for Medicaid & Medicare Services (CMS) issued two notices of proposed rulemaking (NPRM) that will greatly influence how FHIR advances.
Da Vinci officially commented March 13 on one the rules, the Advancing Interoperability and Improving Prior Authorization Processes, or "Interop 3," and submitted comments last week to the other rule, the Attachments NPRM, due on March 20. This rule is a set of HIPAA attachment standards and related definitions for electronic exchange of clinical administrative data to support both prior authorizations and claims adjudication, according to Alix Goss, moderator for the HL7 Da Vinci Project Community Roundtable and HL7 Da Vinci Project PMO, as well as vice president and senior consultant with Imprado.
Da Vinci is not in favor of finalizing the proposed regulations, Goss said. A final rule would require investments across the country that essentially will hardwire the approach making further evolution that much harder and burdensome, and redirecting the industry's focus, taxing resources.
"Industry payers, providers, clearing houses, vendors, patients and more have to make choices at each step of the interoperability journey, and finalizing these regulations brings complications to the choices already made, and those to come," Goss said. "We all know that the reality that technology moves faster than policy advancements and we're still working out how to work with this reality."
Goss advises those who want a deeper dive into these rules to review the January 25 Community Roundtable, where the CMS Office of Burden Reduction and the National Standards group delivered an extensive overview.
Comments on the Interop 3 rule were derived from an in-depth Da Vinci membership deliberation process, according to Hans Buitendijk, vice-chair of the Da Vinci steering committee and director of interoperability strategy for Oracle Health. "Our dedicated members really came together on this effort, with strong educated opinions and the ability to facilitate discussions and work toward the big picture."
The comments follow the Da Vinci Project's Feb. 22 Community Roundtable, titled, "Advancing Interoperability via FHIR APIs: An Industry Discussion on Progress, Proposed Rules and the Value of Automation," which sparked great interest among attendees, as Da Vinci leaders broke down these latest proposed landmark regulations impacting interoperability. They also discussed the progress made by the community over the last six years of its existence.
"From a Da Vinci perspective, we are very much focusing on how the DaVinci implementation guides (IGs) can support these proposed requirements," said Denise St. Clair, HL7 Da Vinci Project PMO, and research manager at Acumen, LLC, "and if there are any technical or policy considerations you suggest CMS review to ensure the most successful implementation of the rule, however the policies are ultimately finalized."
According to St. Clair, Da Vinci can provide tools to help the industry comply with the rules, as they are proposed. "That really is the underlying theme, she said. "There are a couple of opportunities for us to advance Da Vinci ideas to support the proposals in this rule." Examples include, advancing the Payer Data Exchange (PDex) IG to fully support the proposal for documentation exchange for the prior authorization information sharing and patient access and provider access to care to payer application programming interfaces (APIs). Da Vinci can also work to ensure that PDex can also support asynchronous exchange for multiple health plan members.
Kirk Anderson, chair of the HL7 Da Vinci Project steering committee and vice president and chief technology officer at Cambia Health Solutions, said Da Vinci roundtables provide a great opportunity to look at the big picture of what the project has accomplished to far, "leaning into the vision of healthcare interoperability."
"For me personally, one of the greatest satisfactions that I have as a member of this unique collective initiative of peers and providers, EMR and other health IT vendors is that we have truly moved now into what I call the full-on implementation phase," Anderson said. "And what I mean by that is, unlike in the first couple of years of our existence, we're no longer simply advocating for an idea or concept that comes up being in embracing open standard FHIR API's. We've been finding the best path forward, not only for value based care, but to modernize the way that payers and providers interoperate every day."
Anderson noted that Da Vinci members are all excited about the use cases developed so far. "They're all there for a reason. They're there because payers and providers have identified them—not only as business challenges—but as great opportunities to use FHIR APIs to solve those challenges. I think prior auth in many ways is a perfect example of this opportunity. And I want to applaud CMS for their efforts reflected in their latest NPRM to drive the country to FHIR APIs for prior auth. "
The roundtable concluded with a very lively panel Q&A discussion of multiple key issues that Da Vinci leaders recommend for viewing.
Recording Now Available
Want more information? Access the live recording and slides here. RECORDING
Slides: Da Vinci Community Roundtable Feb 2023_Final.pptx
Register Today for the March Community Roundtable!
Registration for the March 2023 Da Vinci Project Community Roundtable is free and can be accessed at https://register.gotowebinar.com/register/1531185820023867224.
About the Community Roundtable
The goal of the Da Vinci Project's community roundtables is to increase public awareness among payers, providers and vendors of the resources and progress coming out of Da Vinci's efforts. These 90-minute virtual sessions are open to Da Vinci members as well as the public and highlight how members leverage the Da Vinci use cases and implementation guides in action in workflow.
Typically, two or three organizations showcase their work and answer audience questions, allowing for a vibrant discussion and fostering industry understanding of the Da Vinci work products and resulting market solutions. Sessions are recorded and available online after the event.
Join the Community
To learn more and join the community, visit hl7.me/davincinews.