You may have noticed that the HL7 website has a new look and feel.
The newly launched public homepage is one component of a broader website redesign project with an overall focus to enhance the most widely used and frequently visited sections of the HL7.org.
We hope this redesign will:
Better highlight the value and benefits offered by HL7 to the healthcare community

Increase the visibility of education and membership opportunities

Support HL7 mission, vision, strategic goals and initiatives

Provide new users with an appealing, responsive and mobile-friendly experience
Homepage Facelift
The HL7 homepage now features an alternate state depending on your logged in status.
If you are logged in to HL7.org, you will see a new look and feel, but with all the content in the same place. When logging out, you will view the new public homepage, which prominently highlight's HL7's benefits, events and standards — the items that are likely to be of most interest to the broader healthcare community.


Public Homepage Private Homepage (Logged In)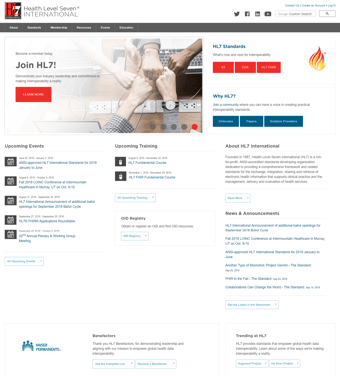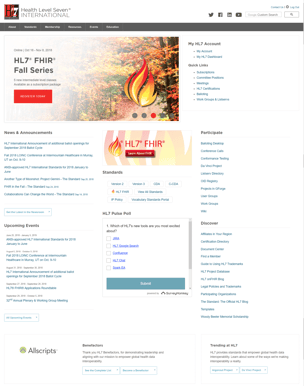 Mobile Friendly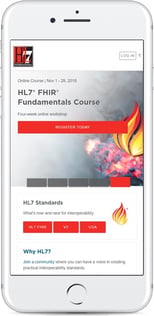 Individuals visiting the website on a mobile device will notice the biggest change to our website – they can now read and click items without zooming in!
Earlier this year, we updated our event pages to be mobile friendly. This was the first step in improving the framework of the HL7 website.
You can look forward to other responsive improvements across the website in the next year.
Website Enhancement Project Status
The next improvement will be to the education pages in December, including:
Simplified navigation
Increased visibility for HL7 certification
Enhanced content
Search engine optimization (SEO)
New lead capture processes where possible


The end result will focus on providing information that users need in a concise and clear format while promoting upcoming educational events.

Looking ahead to 2019, the website project includes the following deliverables:

Landing pages for specific stakeholder groups such as as executives and clinicians

Updated standards grid page to make it easier to find the HL7 standards you need


Questions or Comments?

We hope you enjoy the newly enhanced website. Please feel free to contact the HL7 web team by posting to the Support Stream on chat.HL7.org with any questions.