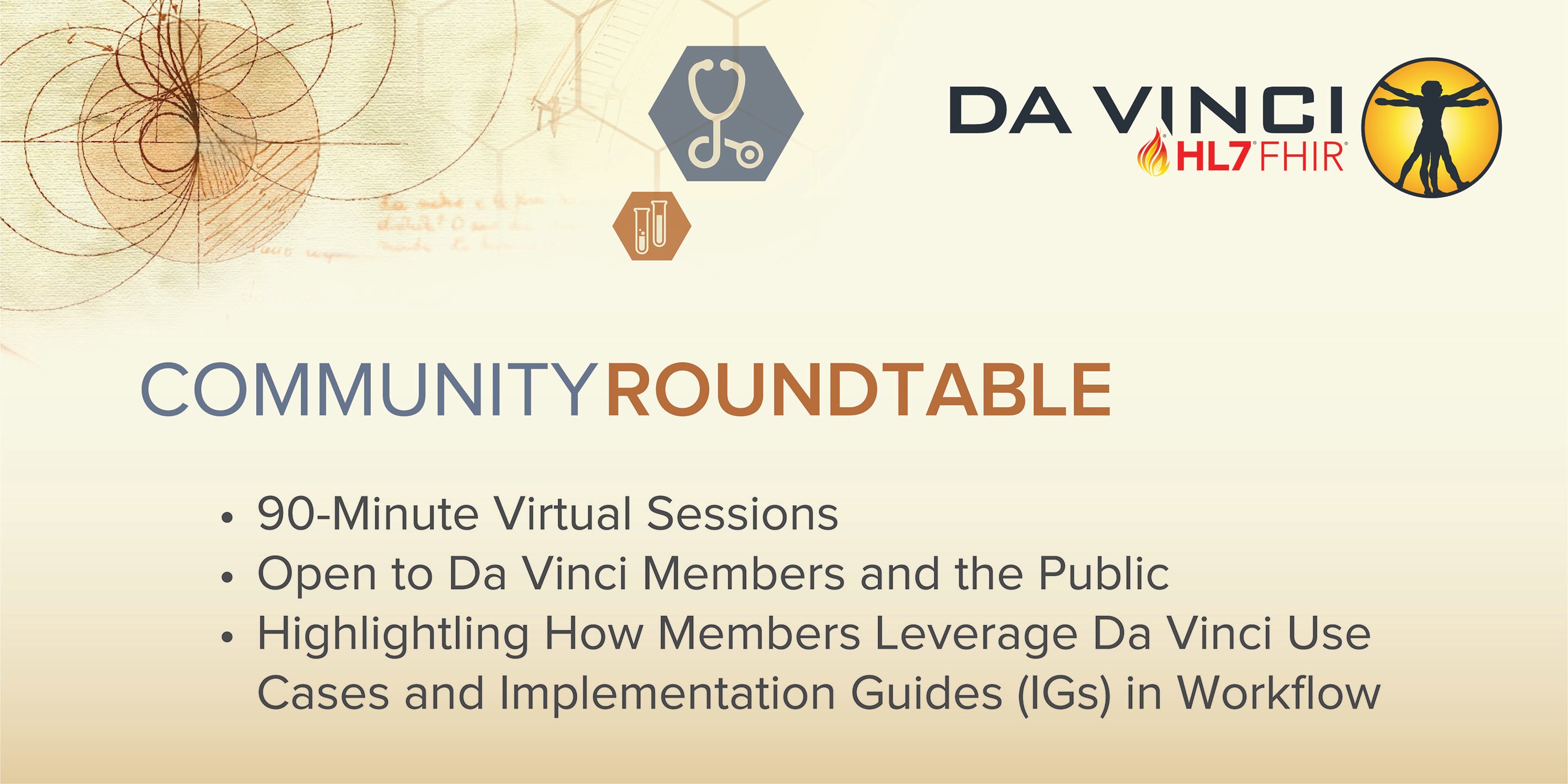 May Community Roundtable Will Feature Case Study on How Standardized Information Sharing Between Providers, Payers Improves Patient Care
In this month's Community Roundtable, the HL7 Da Vinci Project will offer timely insights on achieving bidirectional clinical data exchange between payers and providers using Da Vinci's PDex (Patient Data Exchange) and CDex (Clinical Data Exchange) implementation guides.
The virtual roundtable, titled "Improving Patient Outcomes Using FHIR: How providers are exchanging clinical data with payers to deliver better quality of care," will be held 4-5:30 p.m. EDT on Wednesday, May 24.
This free online event will feature an implementation story from Florida Blue, healow Insights and Humana that describes how standardized information sharing improves patient care. The session will include a demonstration of clinical data exchange capabilities, such as point of care alerts and up-to-date patient histories, underscoring the value of using HL7 FHIR® (Fast Healthcare Interoperability Resources) standards to optimize electronic medical record integration to assist in achieving value-based care outcomes.
Plus, the webinar will offer Da Vinci program updates and an assessment of use case milestone progress, including highlights from the HL7 FHIR Connectathon and May WGM+.
Guest speakers will include:
Ghani Choudari, IT Systems Engineer, Healthcare Interoperability Team, Florida Blue

Farheen Khalil, Product Analyst, Product Management Team, healow Insights

Scott Ogden, IT Business Architect, Healthcare Interoperability Team, Florida Blue

Ranjan Saxena, Interoperability Architecture, Humana

Rohit Shinde, Vice President, healow Insights
The moderator will be Alix Goss, HL7 Da Vinci Project PMO and Senior Consultant at Point-of-Care Partners.
Register Today for the May Community Roundtable!
Registration for the May 2023 Da Vinci Project Community Roundtable is free and can be accessed at https://register.gotowebinar.com/register/321111702525397850.
About the Community Roundtable
The goal of the Da Vinci Project's community roundtables is to increase public awareness among payers, providers and vendors of the resources and progress coming out of Da Vinci's efforts. These 90-minute virtual sessions are open to Da Vinci members as well as the public and highlight how members leverage the Da Vinci use cases and implementation guides in action in workflow.
Typically, two or three organizations showcase their work and answer audience questions, allowing for a vibrant discussion and fostering industry understanding of the Da Vinci work products and resulting market solutions. Sessions are recorded and available online after the event.
Join the Community
To learn more and join the community, visit hl7.me/davincinews.