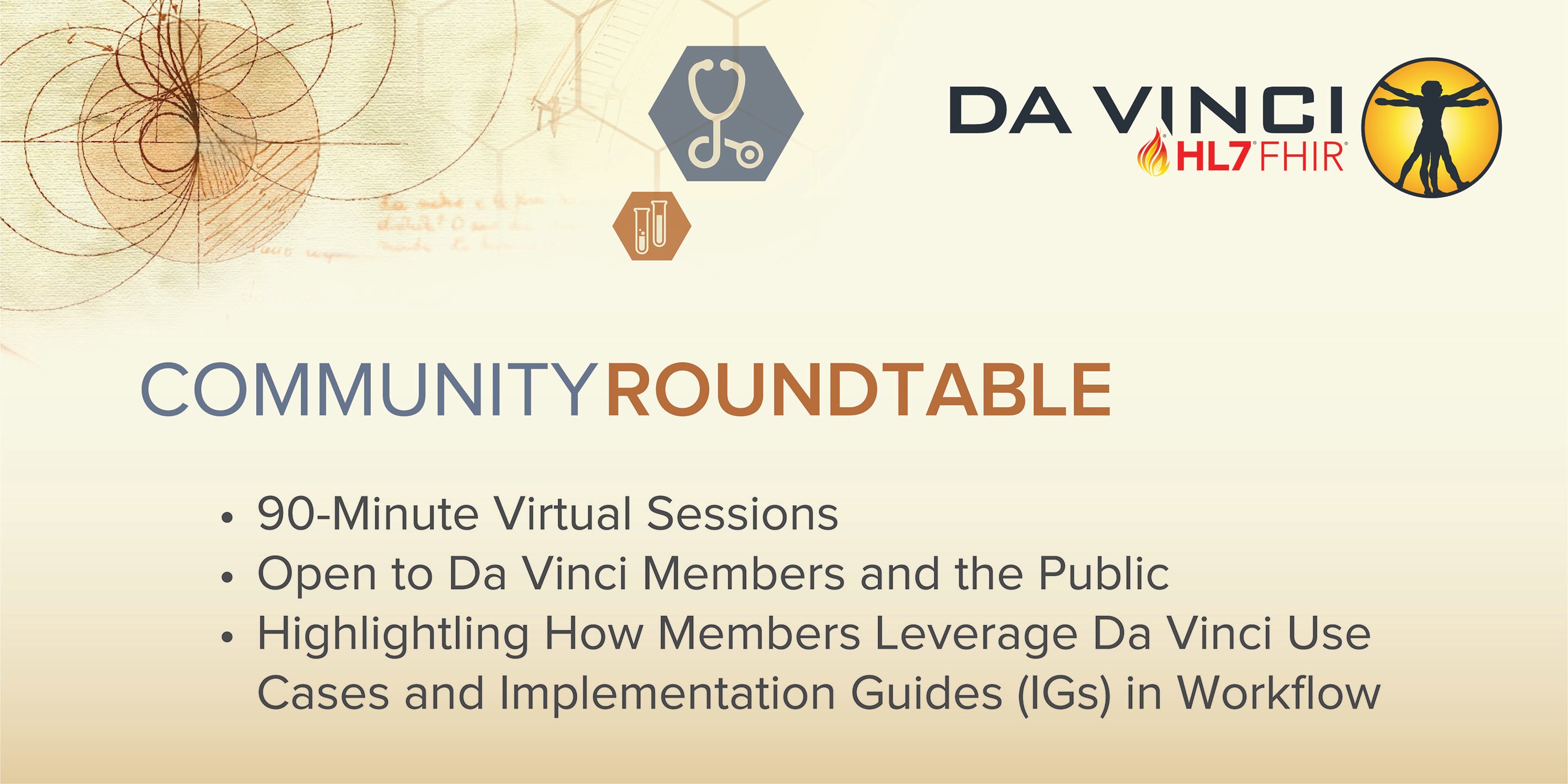 Recap of the August Da Vinci Project Community Roundtable on DRLS and FAST
As the HL7 Da Vinci Project continues to make rapid progress in developing use cases to enable the exchange of healthcare information, work has been underway to test and widely deploy these cases among industry players.
Efforts led by federal agencies have been in motion to use solutions based on HL7's Fast Healthcare Interoperability Resources (FHIR®) standard at scale, as well as to incorporate FHIR use cases in a federal initiative that developed and tested a prototype to demonstrate the capability to streamline clinical workflow access to coverage requirements.
Presenters at a Da Vinci Project community roundtable on August 26 said the initiatives are important in bringing the benefits of automated information exchange throughout the healthcare industry, while taking steps to reduce the burden on providers.
The FAST Initiative
In one initiative, the Office of the National Coordinator for Health Information Technology (ONC) is convening a FHIR at Scale Taskforce (FAST) that brings together a representative group of motivated healthcare industry stakeholders. FAST aims to take use cases that are being demonstrated in initial efforts between partners in the industry and ensure that they can operate more broadly.
"In building solutions for FHIR for interoperability, we realize that individual solutions are being developed to work between one endpoint and another," said Stephen Konya, senior advisor to ONC and the Department of Health and Human Services. "When we start to roll these out at scale – when there's a large number of payers sharing a large amount of data with a large number of providers – the game changes."
The task force is looking at a number of factors that will influence scalability, such as the following:
A supportive technical infrastructure
Potential FHIR scalability gaps and possible solutions
Other analysis that will address current barriers that need to be overcome to accelerate the adoption of FHIR at scale
To facilitate this work, FAST has created seven "tiger teams" to explore potential impediments to scalability, such as identity, security, directory versioning and scale, certification and pilot testing. In addition, FAST is led by a coordinating committee, which provides day-to-day direction for the tiger teams, and it's overseen by an executive steering committee team. The initiative aims to overcome shared technical challenges to FHIR scalability.
Da Vinci Project use cases will face similar challenges in moving from proof-of-concept demonstrations to widespread deployment, said Patrick Murta, chief interoperability architect and fellow and co-chief architect of FAST. It's crucial that "all agree to use a set of infrastructure standards to enable these use cases to run at scale," he said. "At a high level, that's how FAST, the Da Vinci Project and other (HL7) accelerators work with each other so FHIR can work at scale."
While FHIR holds great promise for exchanging data, scaling solutions is essential to achieve maximum benefit, said Paul Oates, lead for IT M&A Practice for Cigna and co-chief architect for FAST. He noted that some standards-based networks operate for transactions, such as NCPDP for pharmacy transactions and X12 for administrative data, "but we really don't have the same set up for FHIR and the delivery of clinical information – that's where we're headed as an outcome of solving these barriers" standing in the way of using FHIR at massive scale.
So far, FAST is getting input from subject matter experts, including those from industries outside of healthcare that have successfully implemented API-driven restful service infrastructures. It's taking those suggestions and creating a new version of the solution, which it expects to put through a standards process, Oates said. Challenges remain, such as ensuring patient identity and the validity of data endpoints, and a single national API directory might also be needed. FHIR solutions will need to be tested and certified that they can work at scale, and the industry will also need to ensure transactions can be reliably routed across exchange networks.
A FAST workshop occurred on September 14, and the task force plans to issue a draft action plan this fall. More information can be found here. Murta added that the task force is in the initial stages of designing pilots to test whether its solutions will work at scale.
Medicare Fee for Service Documentation Requirement Lookup Service (DRLS) Prototype
Another initiative a federal agency has done involving the Da Vinci Project sought to develop and pilot test a prototype software leveraging two of the use cases.
The Centers for Medicare & Medicaid Services began the Documentation Requirement Lookup Service (DRLS) initiative in 2018, working in collaboration with the healthcare industry, in to response to ongoing provider burden experienced when trying to identify coverage related requirements, including documentation and prior authorization requirements. The initiative aimed to successfully demonstrate the capability to streamline provider access to coverage requirements, from within their clinical workflows, through the development and testing of a DRLS prototype for the Medicare Fee for Service program.
The DRLS prototype that was developed leaned heavily on two Da Vinci Project use cases – Coverage Requirements Discovery (CRD) and Documentation Templates and Rules (DTR). CRD enables a provider to find out, within clinical workflow, if there's anything needed to document to support a planned treatment. DTR enables a provider to access a payer's rules to show what needs to be documented in the clinical record to support an order for service.
Larry Decelles, DRLS Task/Technical Development Lead for MITRE, walked through a high-level architecture showing an example workflow that demonstrated how streamlining workflow access to coverage requirements has the potential to reduce provider burden and provide significant time efficiencies to the process of discovering prior authorization and documentation requirements at the time of service.
Recording Now Available
Want more information? Access the live recording and slides here.
To learn more about the HL7 Da Vinci Project and to join the community, visit hl7.me/davincinews.
About the Community Roundtable
The goal of the Da Vinci Project's community roundtables is to increase public awareness among payers, providers and vendors of the resources and progress coming out of Da Vinci's efforts. These 90-minute virtual sessions are open to Da Vinci members and the public and highlight how members leverage the Da Vinci use cases and implementation guides (IGs) in action in workflow.
Typically, two or three organizations showcase their work and answer audience questions, allowing for a vibrant discussion and fostering industry understanding of the Da Vinci work products and resulting market solutions. Sessions are recorded and available online after the event.
Join the Community
To learn more and join the community, visit hl7.me/davincinews.