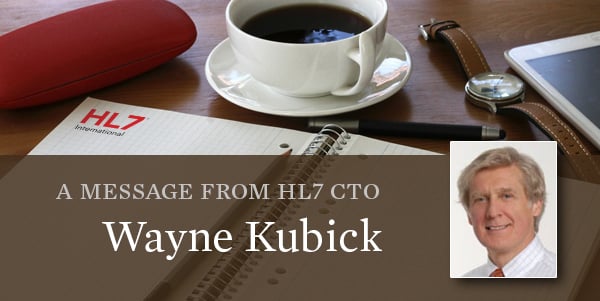 Déjà Vu All Over Again

My last tooling update was titled Focus on Finishing. Thus, in homage to the inimitable Yogi Berra, it would be hypocrisy to change focus now. Focus on Finishing is still the principal theme for the year, building on essentialism, my other guiding light, as expressed in the axiom "Do less, better."

Toward that end, we continue to move ahead with our transition to our core collaboration tool stack and processes based on workflow-driven online forms. As of this writing, we're completing final improvements to make the online PSS available to all later this spring. We'll be working to finish automating most other key form-driven processes after that.

In addition, we hope to finish our transition to a new JIRA-based balloting system, which is also being piloted as of this writing. This, together with the recent transition from GForge Tracker and the STU Feedback web page to JIRA, puts all of our specification feedback in one repository moving forward.

While finishing our transition for balloting is critically important, we also have to update and replace some peripheral systems supporting the balloting process for members, as well as our core business systems for managing membership, events and operations. While we don't expect to complete this transition to a new Association Management System before the end of 2021, we'll be focused on finishing this as rapidly as possible since it's an essential foundation to further systems improvements for the HL7 organization.

2020 saw the production release of the new terminology.hl7.org web page and the Unified Terminology Governance (UTG) system to manage its content. Getting this out was a major milestone, yet we recognize that there's more to be done to make the tooling easier to use and improve the quality and completeness of the content. In this sense, finishing is not really bringing closure to a long-running project; rather, it's more like passing through a doorway from one place to another through a process of staged improvements.

This analogy is also a good way to look at the incredible progress that's been made with the FHIR IG Publisher tooling environment. Over the past two years, IG Pub has been significantly improved and expanded. In 2021, we hope to finish a long-term effort to operationalize the tool, so it doesn't require as much human intervention (mostly, alas, by our venerable FHIR Product Director).

Twists and Turns

In all these cases, we can only finish what we know. As HL7 re-envisions itself for a rapidly changing world, we can expect a steady stream of what Donald Rumsfeld so memorably characterized as "known unknowns" and "unknown unknowns". We can stabilize tools like IG Pub for a while, but as we expand it to support publishing other standards like Clinical Document Architecture (CDA®), Consolidated CDA (C-CDA) and other HL7 terminologies, we introduce or uncover other issues that affect what may have been stable before - a constant circle. As HL7 Fast Healthcare Interoperability Resources (FHIR®) expands to address new communities and use cases, we recognize that IG Pub and other tools will need to evolve to support new initiatives by a much larger community. Any evolutionary change has the potential to have unexpected effects.

Thus, when I speak of finishing, I'm generally thinking about the visible horizon. Once you get there, you will likely see additional twists and turns you need to navigate to reach the ultimate desired destination. There's a difference between making something newly available and making it a value-adding core part of the way we work. Finishing one stage generally involves beginning another, and we have many more journeys ahead.

Meanwhile, no matter how many times I repeat "focus on finishing" and "do less, better," the incoming tide never quite abates, so we need to balance the need to meet critical new challenges while finishing the older ones. Therefore, it bears repeating that we're still struggling against a catastrophic pandemic, and no matter how firm our plans, we need to be ready to do what we must even if it strays from the intended plan.

This brings up a new target focus area: improving the way we look at work in progress, so the community has more visibility and insight into what's coming. The Standups page helped with this for published specifications. However, it's also often necessary for implementers to know whether there are items in the pipeline that may affect their internal projects so they can plan accordingly. Under our new ONC-funded US Realm contract, we'll be working to deliver new systems and tools to help the broader community of HL7 members, stakeholders and beneficiaries gain more visibility into our ongoing work and upcoming publications.


The Road Ahead


55 – minute meetings

After more than a year of social distancing in place, with an endless stream of meetings and incoming to-dos, we can often find ourselves overwhelmed as we lurch from meeting to meeting. I've proposed adopting the 55-minute meeting at HL7. Like most humans, I need to deal with stuff in between abutting Zoom calls, and just like it's important to incorporate intermittent rest into your workouts, it's healthy and productive to plan for a break in between back-to-back meetings. Realistically, we start most meetings several minutes late waiting to achieve quorum anyway. Additionally, most of us would welcome a few moments to take a deep breath, switch gears and redirect our attention spans to the next meeting after leaving the prior one. The 55-minute meeting is simply acknowledging an intent to allow each other to take five minutes in between to reset. You can still join early to chat with your colleagues – but let's drop the gavel to formally commence at three minutes after and finish up 55 minutes later. Maybe that will allow attendees time to overcome the occasional Zoom hiccups, misplaced notes or simply pour that extra cup of coffee. A slightly delayed start will also help us start strong and focus on an on-time finish, which should bring another five-minute break before we start all over again.

I believe the 55-minute meeting will improve our health, satisfaction and our meeting effectiveness, so we can do more better, in less time. Like muscle memory, it will get better with repetition, making participating at HL7 just a bit easier on us all. This should be something we can all appreciate.