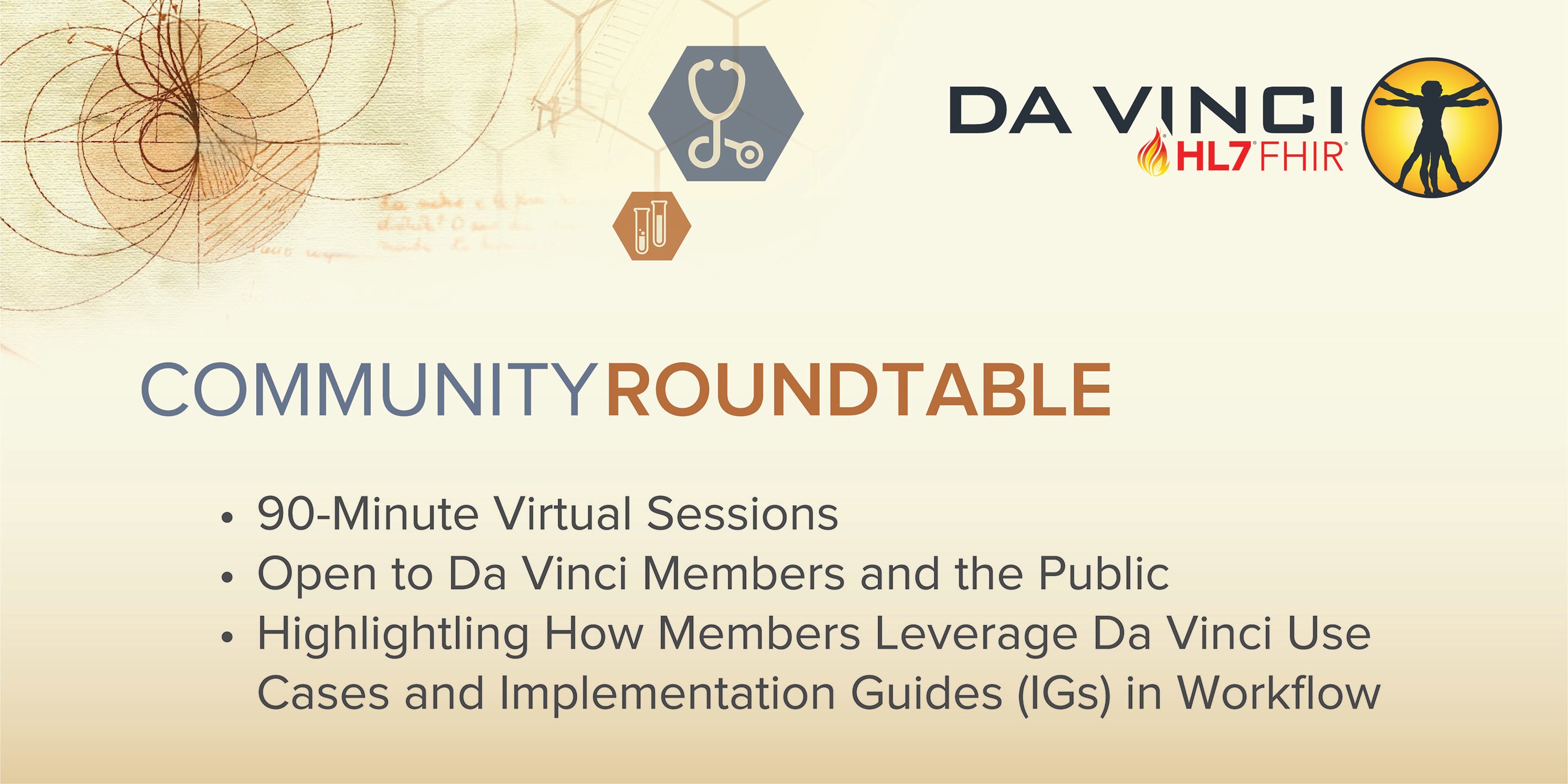 HL7 Da Vinci Project Event Wednesday, July 22, from 4:00 – 5:30 p.m. EDT
Quality measurement is a key factor in improving the delivery of care, especially in value-based care arrangements. And it has become clear that as the shift to value-based care continues, the need for payer-provider collaboration has become essential.
The exchange of data among healthcare industry members can help organizations improve quality, and HL7's Fast Healthcare Interoperability Resources (FHIR®) can play a significant role. The next Community Roundtable hosted by the HL7 Da Vinci Project entitled "What It Takes: How to Leverage the HL7 Da Vinci Project to Drive Quality Measurement and Value-Based Care," will examine how organizations are making progress in sharing information for quality purposes.
The roundtable discussion will begin with Jocelyn Keegan, the Da Vinci program manager, providing an overview on the status, maturity and resources available for emerging implementations across Da Vinci focus areas.
Then,
Cigna
,
InterSystems
and
Rush Health
will take a deep dive into the
Data Exchange for Quality Measures (DEQM)
to describe how they formed their project and implemented the technical requirements. Presenters will discuss the progress of the initiative and how the project holds promise to reduce the burden and increase the scale of data exchange for value-based care. They will discuss their journey to use the appropriate
Da Vinci use cases
, as well as how they have leveraged, and plan to continue to leverage, the work by Da Vinci.
Patrick Haren, architecture director, will participate for Cigna, a large health insurer and a participating member of the Da Vinci Project.
Kamlesh Patel, senior project manager, will share how the project dovetails with efforts underway at Rush Health, a clinically integrated network of healthcare providers and hospitals working together to improve healthcare delivery. The Rush Health network includes Riverside Medical Center, Rush Copley Medical Center, Rush Oak Park Hospital, Rush University Medical Center, and a growing network of physician and non-physician network clinicians.
Finally, Lynda Rowe, senior advisor, will discuss the role for healthcare technology vendor InterSystems in the project. InterSystems offers integration technology that enables information to be exchanged between different electronic records systems.
Register Today!
Register for the July 22 Da Vinci Community Roundtable at: https://register.gotowebinar.com/register/6569947421993701902.
About the Community Roundtable
The goal of the Da Vinci Project's community roundtables is to increase public awareness among payers, providers and vendors of the resources and progress coming out of Da Vinci's efforts. These 90-minute virtual sessions are open to Da Vinci members and the public and highlight how members leverage the Da Vinci use cases and implementation guides (IGs) in action in workflow.
Typically, two or three organizations showcase their work and answer audience questions, allowing for a vibrant discussion and fostering industry understanding of the Da Vinci work products and resulting market solutions. Sessions are recorded and available online after the event.
To learn more and join the community, visit hl7.me/davincinews.
Register for the July 22 Community Roundtable Today!
To learn more and join the community, visit hl7.me/davincinews.