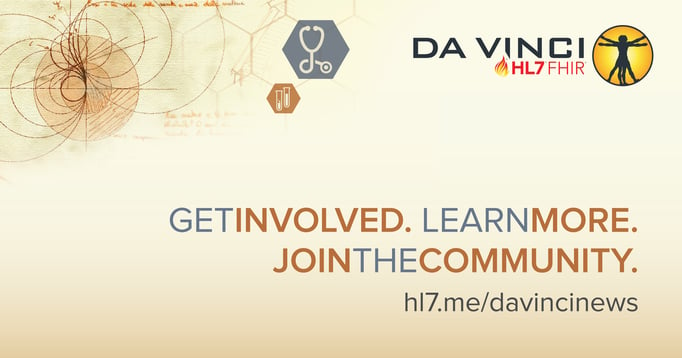 Recap of the Inaugural HL7 Da Vinci Project Community Roundtable
Updates on two use cases that are part of the HL7 Da Vinci Project show that the initiatives are making rapid progress in enabling payer-provider information exchange.
Presenters at a Community Roundtable on March 25 shared information on the prior authorization support (PAS) and Clinical Data Exchange (CDex) use cases and showcasing the potential of the HL7 Fast Healthcare Interoperability Resources (FHIR®) standard to streamline payer-provider interactions.
This was the first of the publicly accessible sessions, which are intended to increase public awareness among payers, providers and vendors about the resources and progress of the Da Vinci Project. A recording of the event can be found here.
Use cases for the Da Vinci Project, started in late 2017, are showing progress in solving vexing industry issues, said Jocelyn Keegan, the program manager for the Da Vinci Project. She expects implementation of use case technology to become more widespread this year, as different data needs grow, and as providers and payers seek gains in efficiency in the value-based care era.
The Da Vinci Project creates FHIR standards-based solutions through the collaborative efforts of industry stakeholders, better leveraging investments in electronic health records (EHRs) and data exchanges, and eliminating the time and effort needed to create one-off data solutions.
Stakeholder interest is high, with more than 150 participants signing in to listen to the session, which was an adaptation of a demonstration that had been planned for HIMSS20 in Orlando to show what could be achieved with Da Vinci use cases.
Significant progress has been made in testing FHIR in use cases. Select healthcare organizations are testing the use of FHIR to support more seamless exchange of information to solve current pain points in the industry.
Participating in the March roundtable were Henry Meyne, product line architect for Availity; Dave DeGandi, senior interoperability strategist for Cambia Health Solutions; and David Gonzalez, marketing solutions manager, physician experience and interoperability, for Meditech.
Prior Authorization Support (PAS)
One use case involves prior authorization support (PAS). Within the Da Vinci Project, FHIR-based services may enable a provider, at the point of service, to request authorization (including all necessary clinical information to support the request) and receive immediate authorization from a payer.
The use of FHIR to facilitate prior authorization in one use case is similar to the process used with the EDI 278 transaction set, a standard from ASC X12N. This is a paired transaction set consisting of a Request and a Response. Using a 278, a healthcare provider, such as a hospital, will send a transaction to request an authorization from a payer. The payer responds with a "pend" status, and the provider then can asynchronously inquire about it, until the payer denies or approves the treatment. A Da Vinci use case employs FHIR to replicate this process with more ease and flexibility.
Clinical Data Exchange (CDex)
The second use case highlighted during the roundtable involves clinical data exchange (CDex). The use case aims to improve upon the ASC X12N transactions typically used—a 277 request for additional information, usually made by a payer, and the 275 transaction from the provider relaying the answers. For example, a payer may want a medical history and results of a physical examination before paying a claim.
The CDex is a new approach to facilitating this process, enabling providers to give requested patient information to payers, or to other providers.
Currently, the process is cumbersome. When payers send requests for additional information, providers' easiest option is to send back a Consolidated Clinical Documentation Architecture (C-CDA) document or a PDF, which typically includes much, if not all, of a patient's medical information. Participants noted that providers currently cannot give payers the particular data they need. Conversely, payers have not been able to ask specifically for what they need.
The use of FHIR for CDex facilitates the process, according to preliminary work on this use case. The CDex request can make individual queries focused on exactly what payers are looking for: the specific data points they need. CDex still supports traditional document retrieval through PDFs, C-CDA and other modes as a fallback for when a provider's system does not support or allow granular access to the data via FHIR.
Also, CDex is flexible enough to support a variety of workflows, with information requests made via a UI/portal, to a partially automated retrieval, to an instant auto-fulfillment of data requests.
A FHIR-based approach will also enable providers to retain control over the entirety of a patient's medical record. Just because a payer makes a query doesn't mean they get free access to all of a patient's medical information, as they would if a provider just replied by sending a C-CDA, the presenters noted.
Register for the Next HL7 Da Vinci Community Roundtable on April 22
The HL7 Da Vinci Project will host its next Community Roundtable entitled "Fulfilling Interoperability Final Rules: GuideWell and Edifecs Present Payer Coverage Decision Exchanges & Alerts," on April 22 from 4 – 5:30 pm Eastern Time. Also presenting will be healow and Mettle to highlight the baseline interoperability that Da Vinci offers across all healthcare stakeholders, specifically showing how other payers and providers can exchange interoperable data in support of delivering better, more effective care to patients.
To register: https://bit.ly/2ykF7u5.
To learn more and join the community, visit hl7.me/davincinews.