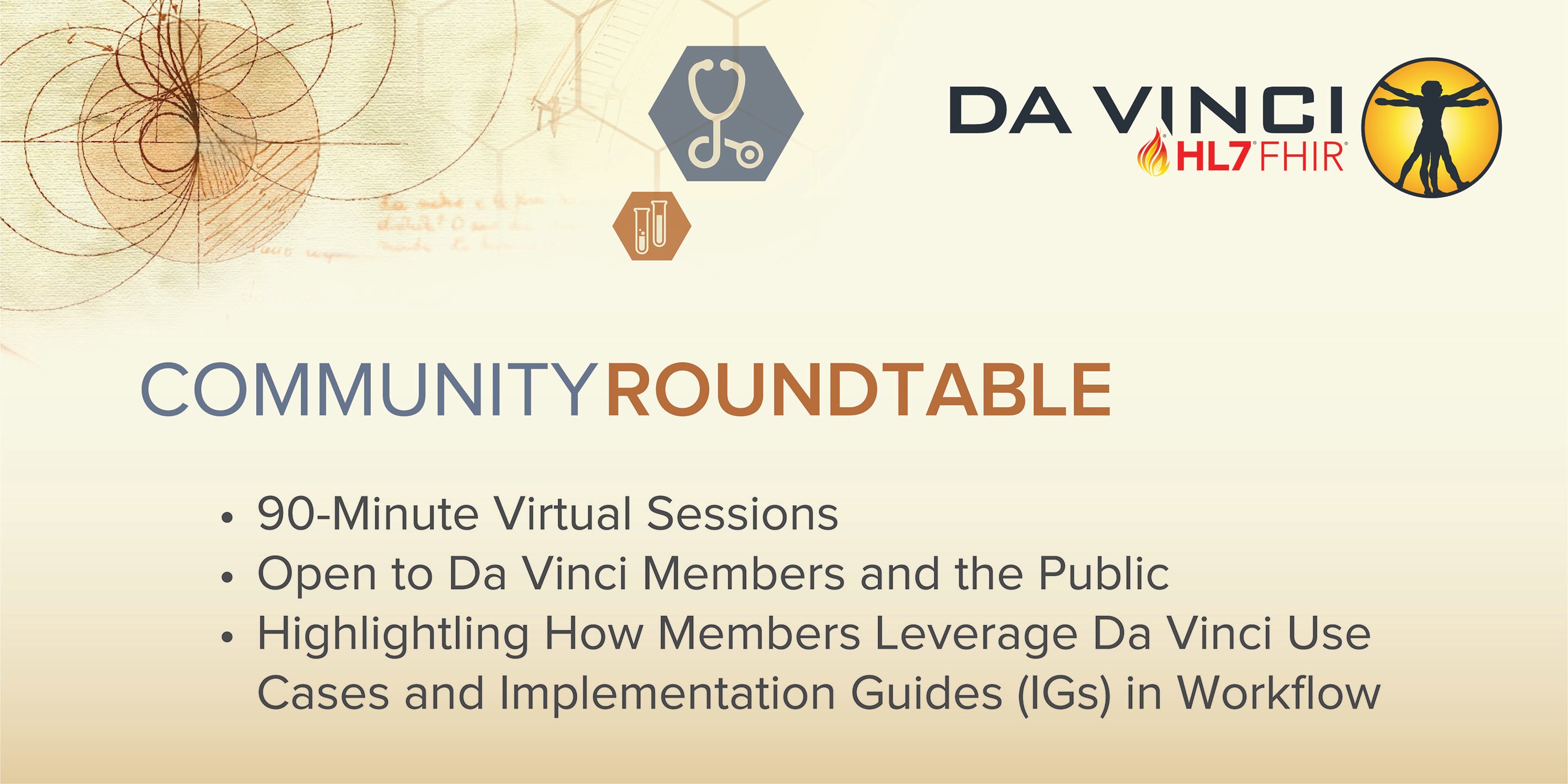 Monthly Event is Scheduled for 4:00 to 5:30 p.m. ET on Wednesday, January 27, 2021
In the first community roundtable of 2021, project managers of the HL7 Da Vinci Project will provide updates for how the project's implementation guides can be used to solve interoperability challenges and meet federal rules.
The roundtable is intended to highlight how Da Vinci Project implementation guides can help organizations reduce burden, advance data exchange and enable better patient access to data.
Participants from the HL7 Da Vinci Project include Jocelyn Keegan, program manager; Viet Nguyen, MD, technical director; and Vanessa Candelora, project manager. The Da Vinci team will show the progress of Implementation Guides (IGs), which give guidance for using the HL7's Fast Healthcare Interoperability Resources (FHIR®) coding. The team will also provide linkages to specific federal rules and policies, giving you the recipe to solve challenges in alignment with federal rules and leverage the power of standards to improve connectivity across all of your patient populations.
In addition, you will hear about the maturity and progress of IGs through connectathons, real world implementations and the HL7 publishing process. The presentation will share how to get involved, join the growing FHIR community and find out how you can directly access all of these free and open resources.
Register Today!
Registration for the January 2021 Da Vinci Project Community Roundtable is free, and can be accessed at https://attendee.gotowebinar.com/register/6372359689170258192.
About the Community Roundtable
The goal of the Da Vinci Project's community roundtables is to increase public awareness among payers, providers and vendors of the resources and progress coming out of Da Vinci's efforts. These 90-minute virtual sessions are open to Da Vinci members and the public and highlight how members leverage the Da Vinci use cases and implementation guides in action in workflow.
Typically, two or three organizations showcase their work and answer audience questions, allowing for a vibrant discussion and fostering industry understanding of the Da Vinci work products and resulting market solutions. Sessions are recorded and available online after the event.
Join the Community
To learn more and join the community, visit hl7.me/davincinews.