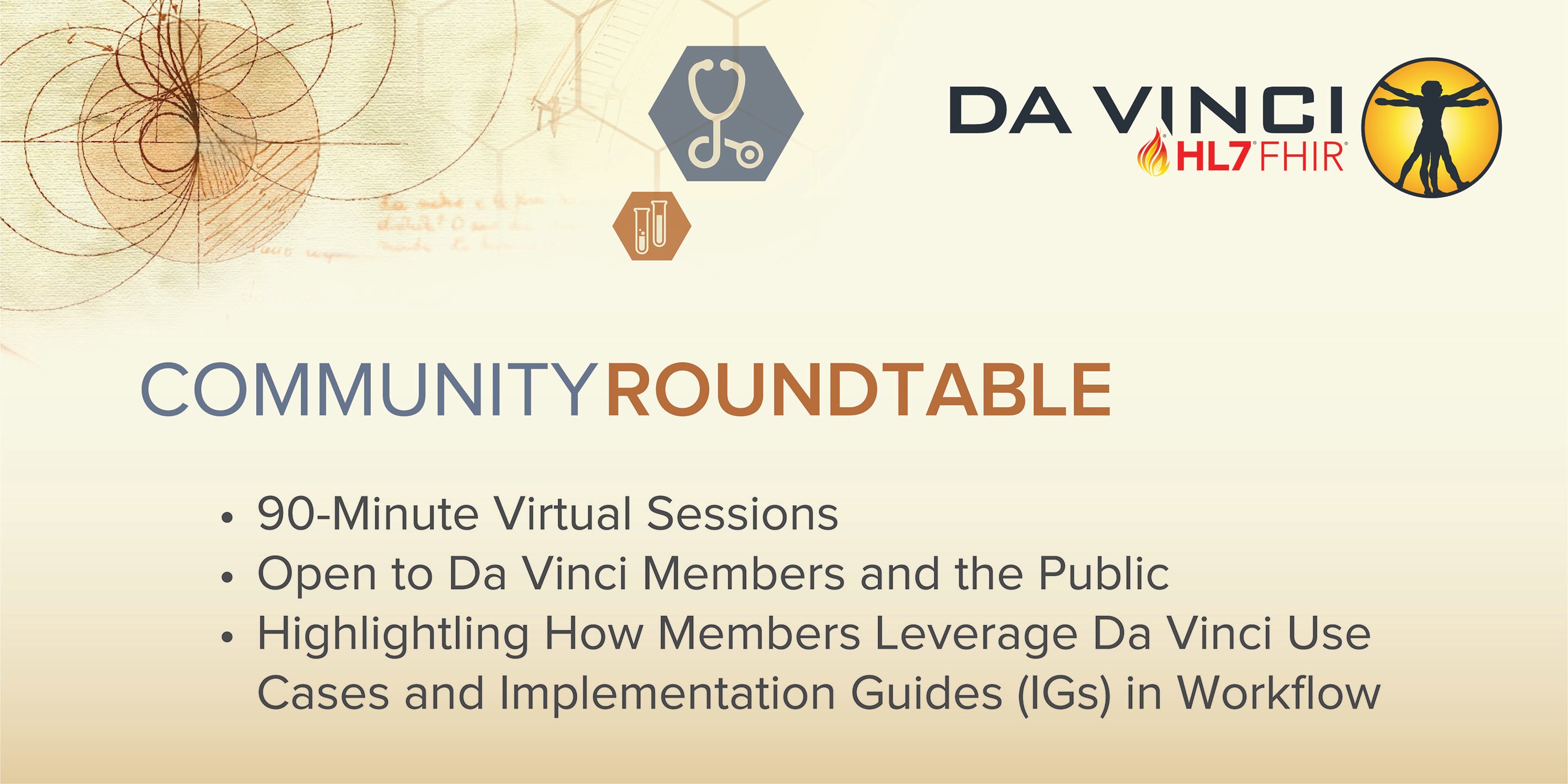 Project Achieves a Tipping Point as Adoption Begins in Earnest to Meet Upcoming and Proposed Federal Regulation and Solve Interoperability Challenges
The Da Vinci Project made significant progress in 2020 in advancing the maturity of implementation guides, and now looks to increasingly demonstrate the value of its implementation guides (IGs) across production implementations this year.
Members of the HL7 FHIR® Accelerator group helped push forward work on several implementation guides that were published in 2020, but further refinement lies ahead, said project managers who presented a progress report on the Da Vinci Project at its January Community Roundtable.
In addition to the update on progress with publishing new standards, the presentation offered members a tour of the Da Vinci Project's enhanced Confluence website, as well as an invitation for more organizations to consider membership to help ensure implementation guides meet the needs of the entire healthcare community.
This year, there will be a growing need to use the HL7 Fast Healthcare Interoperability Resources (FHIR®) standard, as application programming interfaces (APIs) emerge to meet federal information exchange requirements and business needs of value-based care.
Da Vinci Project Implementation Guides
For example, the Da Vinci initiative is strongly aligned with regulatory efforts of the Centers for Medicare & Medicaid Services (CMS).
"We have well over two-thirds of our implementation guides … are being either named in proposed regulation that are out in the process for being moved toward final regulations or are referenced in previous regulations that are out there," said Jocelyn Keegan, program manager for the Da Vinci Project.
Recent regulations aimed at reducing burden within the industry, in processes surrounding prior authorization (aided by the Da Vinci Project's Prior Authorization Support Implementation Guide) and patient record availability, will rely heavily on FHIR use cases, but also will require industry participants to change workflows and other processes to incorporate the use of implementation guides and gain the most benefit from automation.
The development of implementation guides is intended to help the industry improve quality, such as improving communication about gaps in patients' care (enabled by the Gaps in Care use case). "There's a lot of burden on providers to collect data and return it to payers, and we want to make that more automated," said Viet Nguyen, MD, technical director of the Da Vinci Project.
Refining implementation guides to support more advanced processes in value-based care is an iterative process, intended to make progress toward high-value interoperability between industry partners in areas such as Data Exchange for Quality Measures, another Da Vinci Project implementation guide.
"We field questions all the time about how real are these (implementation guides)," Keegan added. "The way standards are developed is incredibly powerful. A draft standard for trial use is something that a community has determined has enough maturity to be implemented. There's a process to going from different draft standards to normative status. We're having that maturity happen across the Da Vinci IGs, against the frameworks of FHIR tooling and the resources in FHIR all happening at the same time. Rather than having something baked and fully developed in a vacuum and then thrust on the industry, this is a chance for the industry to actively participate and evolve the standard."
The goal is to have everyone to "skate in the same direction … as we learn more as an industry," she added.
"Interoperability is a journey; and we have trail blazers who do innovative things and discover routes that make sense, and then they bring other folks along who agree that that's a good route," Nguyen said. "And over time, it moves from a rutted road to a pebble road to blacktop to cement. With that metaphor, in balloting, we have already done a significant amount of testing. As we mature the implementation guide, it at least has a stamp that it is a consistent version that has been vetted by the community. Then you can implement it and give us the feedback to make it better. We learn as we implement and improve the guides as we implement. As new functionality emerges, any of the new functionality can be adopted by others."
Focus in 2021
In 2021, more efforts will be focused on documenting how Da Vinci implementation guides provide concrete benefits to organizations that put them into production.
"We're looking at developing metrics from a (project management) perspective with our leadership team so we can demonstrate what is the value of implementing one of our implementation guide, or series of implementation guides, in your business with you and your business partners," Keegan noted. "We have confidence that this has been put through the paces and put into production."
Work on new uses cases is underway in 2021 to tackle more complex questions that can be answered by automated data exchange, such as Patient Cost Transparency and Risk-Based Coding. Member support is being sought for work on researching and building these implementation guides. The use cases will become public to the HL7 community in Spring 2021.
The Da Vinci Project's Confluence pages have been refined to offer a centralized source of information on implementation guides, giving members who want to learn more information or consider implementation a central source for the most up-to-date information, said Vanessa Candelora, who provides project support for the Da Vinci Project.
Keegan also highlighted the need for new members for the Da Vinci Project, to ensure that the work being done overall meets the need for a wide swath of industry participants and that the finished implementation guides meet the needs of end users and are effective from a workflow perspective.
View the Recording
To watch the full recording and view the slide deck from the presentation, please click here.
About the Community Roundtable
The goal of the Da Vinci Project's community roundtables is to increase public awareness among payers, providers and vendors of the resources and progress coming out of Da Vinci's efforts. These 90-minute virtual sessions are open to Da Vinci members and the public and highlight how members leverage the Da Vinci use cases and implementation guides in action in workflow.
Typically, two or three organizations showcase their work and answer audience questions, allowing for a vibrant discussion and fostering industry understanding of the Da Vinci work products and resulting market solutions. Sessions are recorded and available online after the event.
Join the Community
To learn more and join the community, visit hl7.me/davincinews.
Become a Member
Interested in supporting Da Vinci as a member? Please contact davincipmo@pocp.com.