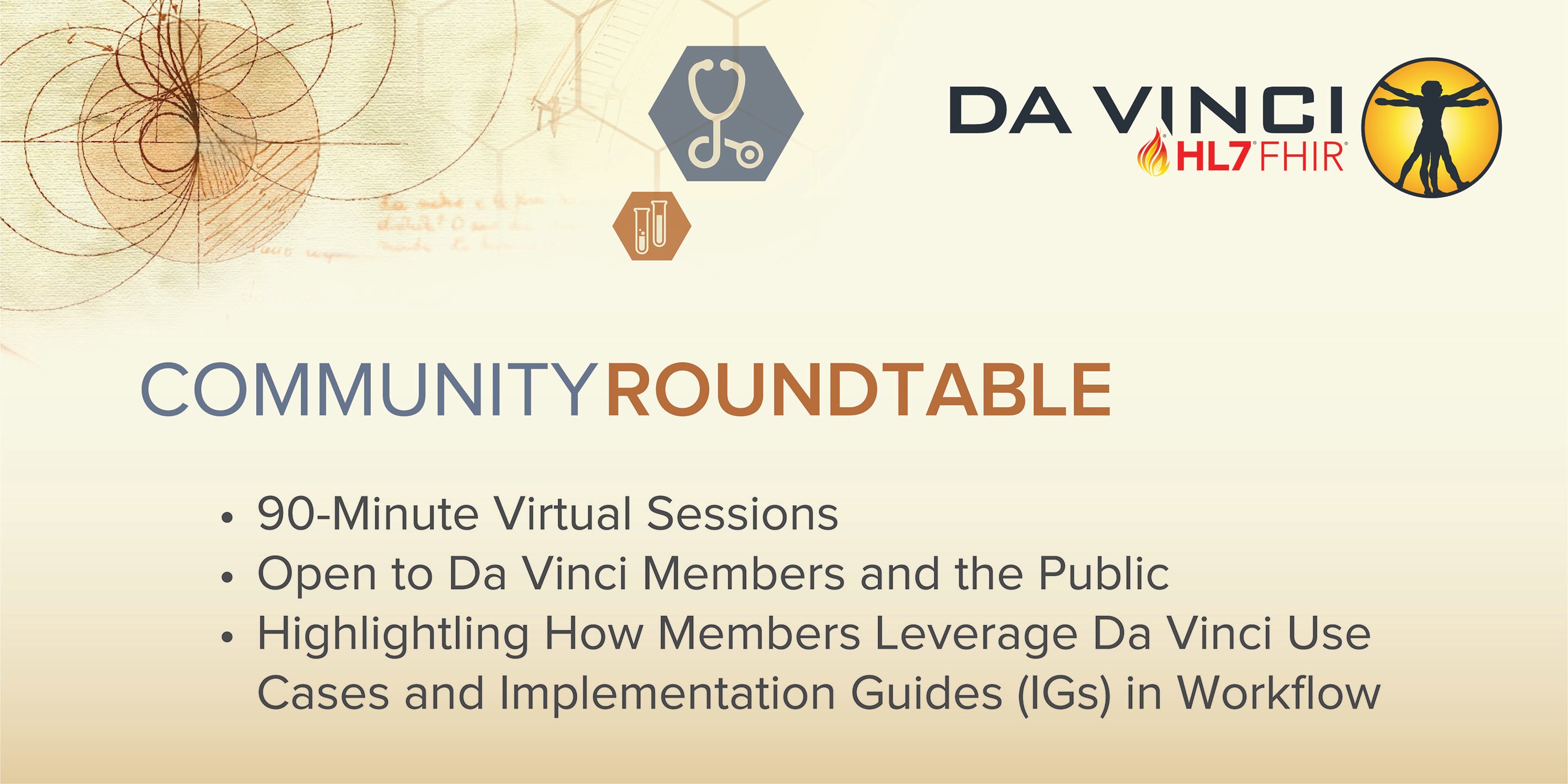 Explore the Cross Accelerator Collaboration During the Discussion Aug. 23, 4 :00 – 5:30 p.m. ET
"Reducing Prior Authorization Burden and Improving Oncologic Care with HL7 FHIR," August's Community Roundtable, will highlight why and how Da Vinci is tackling prior authorization and hear how CodeX is leveraging the work of the Da Vinci Implementation Guides (IGs), which have been referenced in federal proposed interoperability rules, to tackle prior authorization challenges in oncology.  
Join the session and discover the endeavors of the CodeX Prior Authorization in Oncology Use Case team to improve the care journey for cancer patients by expediting prior authorization via automation.

The discussion will share real-world success stories from Da Vinci and how these efforts can serve as building blocks for CodeX solutions, as well as reveal how you can become involved and the benefits of participation in this work.
Presenters for this session include:
Ellen Anderson, Enterprise Architect, Evernorth
Kirk Anderson, Vice President and Chief Technology Officer, Chair, Da Vinci Steering Committee, Cambia Health Solutions
Su Chen, MD, CodeX Program Manager, Clinical Science Principal, MITRE
Alix Goss, HL7 Da Vinci Project PMO, and Senior Consultant, Point-of-Care Partners, serves as the session moderator.
Register Today for the August Community Roundtable!
Registration for the August 2023 Da Vinci Project Community Roundtable is free and can be accessed at https://attendee.gotowebinar.com/register/1008471398532464986.
About the Community Roundtable
The goal of the Da Vinci Project's community roundtables is to increase public awareness among payers, providers and vendors of the resources and progress coming out of Da Vinci's efforts. These 90-minute virtual sessions are open to Da Vinci members as well as the public and highlight how members leverage the Da Vinci use cases and implementation guides in action in workflow.
Typically, two or three organizations showcase their work and answer audience questions, allowing for a vibrant discussion and fostering industry understanding of the Da Vinci work products and resulting market solutions. Sessions are recorded and available online after the event.
Join the Community
To learn more and join the community, visit hl7.me/davincinews.