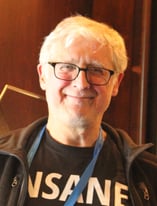 HL7's Chief Technology Officer, Wayne Kubick, will retire at the end of this year. We want to take this opportunity to formally announce it and begin recognizing the many accomplishments and contributions he made to the betterment of HL7 International and its entire global community.
Wayne's responsibilities will be assumed by two new C-level officer positions, a Chief Standards Officer and Chief Implementation Officer, and he will remain in an advisory role into early 2022 to support the transition.

We would like to express our deepest appreciation and thank Wayne for his dedication and unparalleled commitment to HL7 International over the past six years. His leadership has been instrumental in advancing HL7's mission and vision of a world in which everyone can securely access and use the right health data when and where it is needed.
If there is one word that describes Wayne's work philosophy at HL7, it is Essentialism. He introduced us to the concept when he joined the organization and has been a staunch proponent of incorporating Essentialism across the board, encouraging the organization to focus its efforts on its highest contributions to the industry while letting go of non-essential work.
Among Wayne's most notable achievements are advancing the development of HL7 FHIR and its application/adoption, particularly in the clinical research community. As the CTO, he was responsible for enabling various technologies and teams across HL7 and also served as a liaison and spokesperson. A few of Wayne's other accomplishments while at HL7 include:
Spearheaded replacement of HL7's As
sociation Management System
Introduced collaboration tools (Confluence and JIRA) to increase internal efficiencies
Introduced Zulip as a major communication tool for the full HL7 community
Worked with the HL7 Technical Steering Committee and technical staff to streamline processes and simplify organizational structures
Increased collaboration with various outside groups including IHE, TransCelerate, PhUse and other organizations
Negotiated and oversaw successful completion of all projects as the PI for HL7 ONC's contracts
Facilitated expansion of FHIR DevDays to the US and represented HL7 at this and other events
Helped build HL7 FHIR Connectathons from small, casual gatherings to larger, well-organized events
Revitalized HL7's tooling infrastructure to improve standards development, increase visibility into HL7 projects and reduce burden while providing added value to HL7's many volunteers and customers
In addition to his time spent at HL7, Wayne had a successful 25-year career as a leader in life sciences research and development. He served as CTO for the Clinical Data Interchange Standards Consortium (CDISC) where he created and executed a technical roadmap and enhanced relations with regulatory agencies and industry partners. He also held senior-level positions at Oracle Health Sciences, Phase Forward Lincoln Safety Group, PAREXEL International Corporation and BBN Software Products.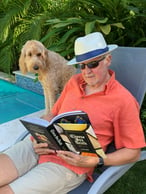 "My six years at HL7 CTO witnessed staggering growth and change, with much more to come," comments Wayne. "While I'm heartened by the progress made helping prepare a revitalized HL7 for the path forward, I also realize these are the initial steps of what will be a long journey to the future. HL7 needs new ideas and fresh, energetic leaders to help take us there."
Wayne says he looks forward to beginning the next phase of his life. "For now, it's time to take a break and refresh my own thinking and aspirations. I expect there are a few more chapters to be written in my personal saga."
Please join us in congratulating Wayne on a job well done and wishing him the best on his retirement.
Sincerely,

Walter Suarez, MD, MPH Charles Jaffe, MD, PhD
HL7 International Board Chair HL7 International CEO