---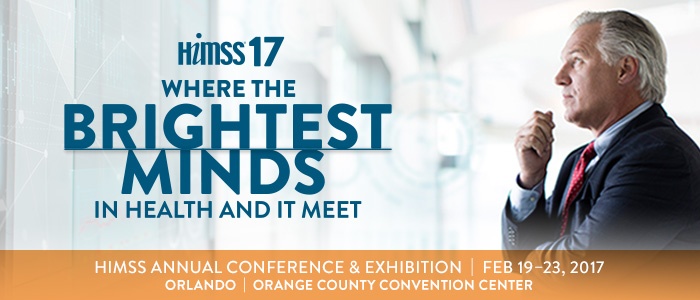 HL7 on FHIR at HIMSS17
With its world-class education, ever-expanding exhibition and exceptional networking opportunities, no other event brings the brightest minds in health and IT together like HIMSS17. More than 40,000 health and IT professionals are expected to attend to explore creative solutions to real-world challenges in Orlando, Florida at the Orange County Convention Center.
HL7 is proud to support this annual event that helps health IT professionals find the right products and solutions for their organizations so that they can continue to transform health and lives through IT.

Setting Clinical Research on FHIR
On Monday, February 20, 2017 at 1:30 PM, HL7's CTO, Wayne Kubick will present the educational session, Setting Clinical Research on FHIR.

Kubick's presentation will examine the current state of research data and discuss a provocative set of critical trends, opportunities and challenges directing future change in the industry.
HL7 Education Theater
HL7 will host more than 25 educational sessions during HIMSS17 in the HL7 Educational Theater in our Booth #943. Sessions will cover a variety of interoperability-related topics, including multiple sessions on HL7's latest standard, Fast Healthcare Interoperability Resources (FHIR®) and the Argonaut Project.
Click here to review presentations slides from past year's HIMSS events.
Be sure to stop by Booth #943 - educational schedule will be posted soon.

HL7 Member Discount
As an official HIMSS17 endorser, HL7 members are eligible to receive a member discount to attend the conference.
To receive the discount, register online at: www.himssconference.org/registration and select Health Level Seven from the "Conference Endorsing Organizations" drop-down in the registration process and enter code: ENDHL717