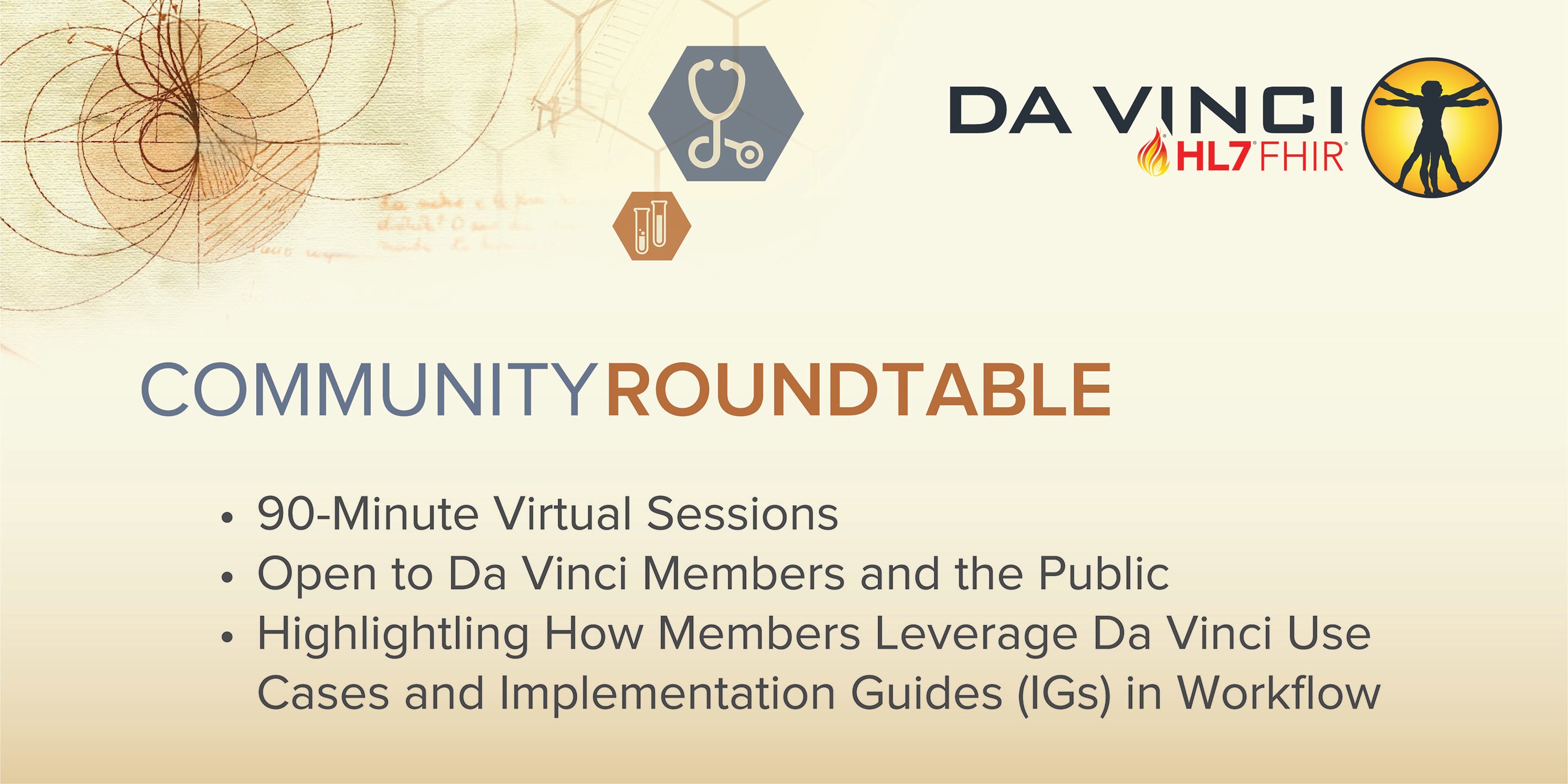 The Da Vinci Project's April Community Roundtable to be held April 26 from 4:00 – 5:30 pm ET
Join us for our April Community Roundtable this Wednesday, April 26, from 4 – 5:30 pm, to hear the latest from the HL7 Da Vinci Project and recent industry activity as well as our featured implementation story from athenahealth, Availity and Humana.
Straight from the Spotlight Theater at HIMSS23, this national payer, EHR vendor and health information network will share lessons learned from their collaborative development of an end-to-end prior authorization process leveraging the Da Vinci Burden Reduction Implementation Guides.
Presenters for this session, "A Transformative Trifecta: An End-to-End Prior Authorization Journey," include:
Susan Bellile, Principal, Clinical Solutions, Availity
Jocelyn Keegan, Program Manager, HL7 Da Vinci Project; Payer/Practice Lead, Point-of-Care Partners
Amy Mattingly, Director, UM Interoperability Product Management, Humana
Gillian McCabe, Director, Product Management, Authorization Management, athenahealth
The moderator for the Community Roundtable is Alix Goss, HL7 Da Vinci Project PMO, Vice President and Senior Consultant, Imprado.
Register Today for the April Community Roundtable!
Registration for the April 2023 Da Vinci Project Community Roundtable is free and can be accessed at https://attendee.gotowebinar.com/register/3747225118278508887
About the Community Roundtable
The goal of the Da Vinci Project's community roundtables is to increase public awareness among payers, providers and vendors of the resources and progress coming out of Da Vinci's efforts. These 90-minute virtual sessions are open to Da Vinci members as well as the public and highlight how members leverage the Da Vinci use cases and implementation guides in action in workflow.
Typically, two or three organizations showcase their work and answer audience questions, allowing for a vibrant discussion and fostering industry understanding of the Da Vinci work products and resulting market solutions. Sessions are recorded and available online after the event.
Join the Community
To learn more and join the community, visit hl7.me/davincinews.