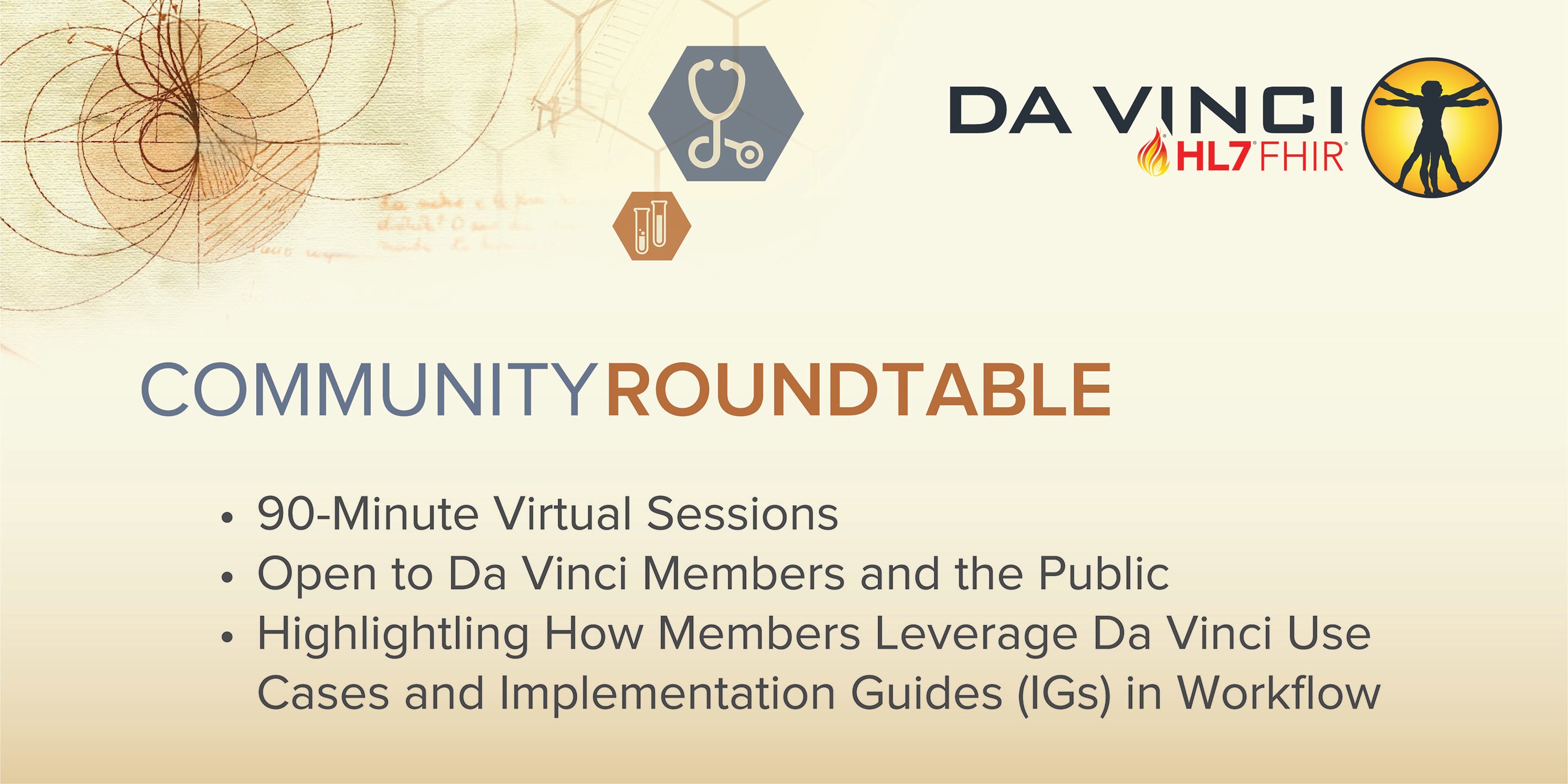 The Da Vinci Project's March Community Roundtable to be held March 30 from 4:00 – 5:30 p.m. ET
Invite your product and technical teams to register for March's HL7 Da Vinci Project Community Roundtable Ready, Set, Test: Prepare Now to Test Da Vinci Implementation Guides.
This essential primer will delve into the IGs and help you identify what you want to test, who needs to be involved, and the tools involved in the testing process so that you are prepared for HL7 and CMS Connectathons.
This session will provide brief updates on Implementation Guides (IGs) and use cases as well as resources to aid testing and Connectathon preparation efforts.
With this basic knowledge you can create your own roadmap to readiness while helping improve industry interoperability.
Speakers:
Vanessa Candelora, HL7 Da Vinci Project Manager, and Senior Consultant, Point-of-Care-Partners

Robert Dieterle, Da Vinci Sr. Advisor and Chief Executive Officer, EnableCare, LLC

Yan Heras, HL7 Da Vinci Project Lead and Technical Advisor, and Principal Informaticist, Optimum eHealth
Register Today for the March Community Roundtable!
Registration for the March 2022 Da Vinci Project Community Roundtable is free and can be accessed at https://attendee.gotowebinar.com/register/1111835375999800846
About the Community Roundtable
The goal of the Da Vinci Project's community roundtables is to increase public awareness among payers, providers and vendors of the resources and progress coming out of Da Vinci's efforts. These 90-minute virtual sessions are open to Da Vinci members as well as the public and highlight how members leverage the Da Vinci use cases and implementation guides in action in workflow.
Typically, two or three organizations showcase their work and answer audience questions, allowing for a vibrant discussion and fostering industry understanding of the Da Vinci work products and resulting market solutions. Sessions are recorded and available online after the event.
Join the Community
To learn more and join the community, visit hl7.me/davincinews.