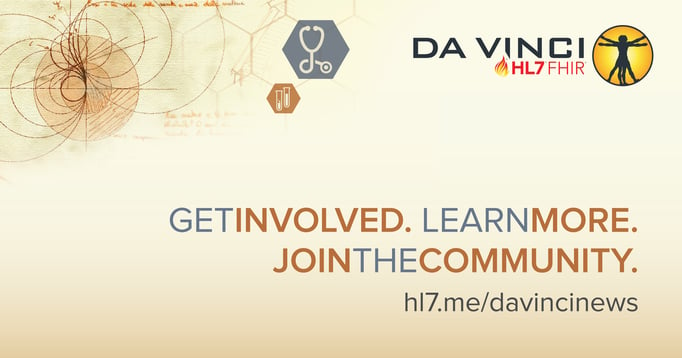 All Are Welcome to Attend the Da Vinci Community Roundtable
Following the success of last week's virtual HIMSS20 HL7®Da Vinci Project programming, and based on feedback from last year's member surveys, the Da Vinci Project is creating a monthly public Community Roundtable session. It premieres next Wednesday, March 25, at 4 p.m. ET and will continue every fourth Wednesday at that same time.
About the Community Roundtable
The goal of the new Community Roundtable is to increase public awareness among payers, providers and vendors of the resources and progress coming out of Da Vinci's efforts. Details are as follows:
90-minute virtual sessions
Open to Da Vinci members and the public
Sessions will highlight how members leverage the Da Vinci use cases and implementation guides (IGs) in action in workflow
Typically, two or three organizations will showcase their work and answer audience questions, allowing for a vibrant discussion and fostering industry understanding of the Da Vinci work products and resulting market solutions. Sessions are anticipated to be recorded and available online for viewing after the event.
About the Inaugural Community Roundtable: A Deep Dive Into the Prior Authorization Support (PAS) and Clinical Data Exchange (CDex) Use Cases
During the virtual HIMSS20 event, the Da Vinci Project's clinical scenario presentations showcased the Da Vinci use cases in a "real-world" scenario by following one patient, Lara, through several healthcare events. In this webinar, we will take an in-depth look at two of these use cases to see how organizations are using the IGs to streamline the exchange of information between payers and providers.
Prior Authorization Support (PAS)
In the Lara clinical scenario, the prior authorization approval happened in an instant, but there's a lot happening behind the scenes of this transaction that is important to understand. In this session, we'll look at the work Availity and Cambia Health Solutions are doing to simplify prior authorizations.
Clinical Data Exchange (CDex)
CDex allows for precise requests for individual data points in a granular, targeted fashion, but what does it mean for payer-provider connectivity? This session showcases how a clearinghouse can help streamline the process for payers and providers.
Presenters
Henry Meyne, Product Line Architect, Availity
Dave Degandi, Senior Interoperability Strategist, Cambia Health Solutions
David G. González, Marketing Solutions Manager, Physician Experience & Interoperability, Meditech
No preregistration is required to attend. To join the meeting visit:
https://global.gotomeeting.com/join/280227357 or call : +1 (646) 749-3112
Access Code: 280-227-357
Please invite your colleagues and partners to join us!
To learn more and join the community, visit hl7.me/davincinews.