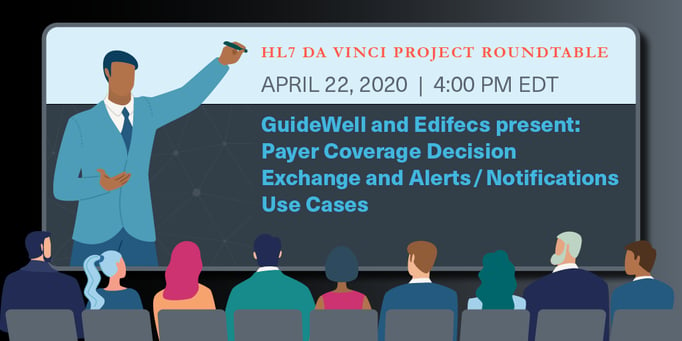 To kick off this month's Da Vinci Project Community Roundtable, which is slated for Wednesday, April 22, at 4 p.m. EST, Deputy Chief Health Informatics Officer at Centers for Medicare & Medicaid Services Alexandra Mugge will provide a high-level overview of the final rule update on interoperability and patient access. It will then take an in-depth look at two use cases presented by GuideWell and Edifecs to see how organizations are using the Da Vinci Project implementation guides to streamline the exchange of information between payers and providers.
GuideWell and Edifecs Present: Payer Coverage Decision Exchange (PCDE) and Alerts/Notifications Use Cases
GuideWell and Edifecs have been working as ongoing partners to aggressively promote the work of the HL7 Da Vinci Project, and in particular, bring its common vision to life by investing in the development of technical capabilities that support real-world patient care use cases leveraging FHIR-based models for patient information sharing. Based upon work the two partners have been doing over the past year, GuideWell and Edifecs will present two important Da Vinci use cases:
Payer Coverage Decision Exchange (PCDE)
Alerts/Notifications
Presenting with them will be healow Insights and Mettle Solutions to highlight the baseline interoperability that Da Vinci offers across all healthcare stakeholders. They will specifically show how other payers and providers can exchange interoperable data in support of delivering better, more effective care to patients.
Presenters
Alexandra Mugge, Deputy Chief Health Informatics Officer at Centers for Medicare & Medicaid Services
John Kelly, Principal Business Advisor, Edifecs
Amit Shah, Senior Director of Shared Applications/Services, GuideWell
Rohit Shinde, Vice President and Business Unit Lead, healow Insights
Sreekanth Puram, Head of Technology and Product Development, Mettle Solutions LLC
Register Today for the Community Roundtable!
Last month's session exceeded its maximum attendance at 151 participants, so we have changed the webinar platform to accommodate up to 500 attendees. Click here to register.
After registering, attendees will receive a confirmation email containing information about joining the webinar.
About the Community Roundtable
The goal of the new Community Roundtable is to increase public awareness among payers, providers and vendors of the resources and progress coming out of Da Vinci's efforts. Details are as follows:
90-minute virtual sessions
Open to Da Vinci members and the public
Sessions will highlight how members leverage the Da Vinci use cases and implementation guides (IGs) in action in workflow
Typically, two or three organizations will showcase their work and answer audience questions, allowing for a vibrant discussion and fostering industry understanding of the Da Vinci work products and resulting market solutions. Sessions are anticipated to be recorded and available online for viewing after the event.
Please invite your colleagues and partners to join us!
Register for the Community Rountable Today!
To learn more and join the community, visit hl7.me/davincinews.